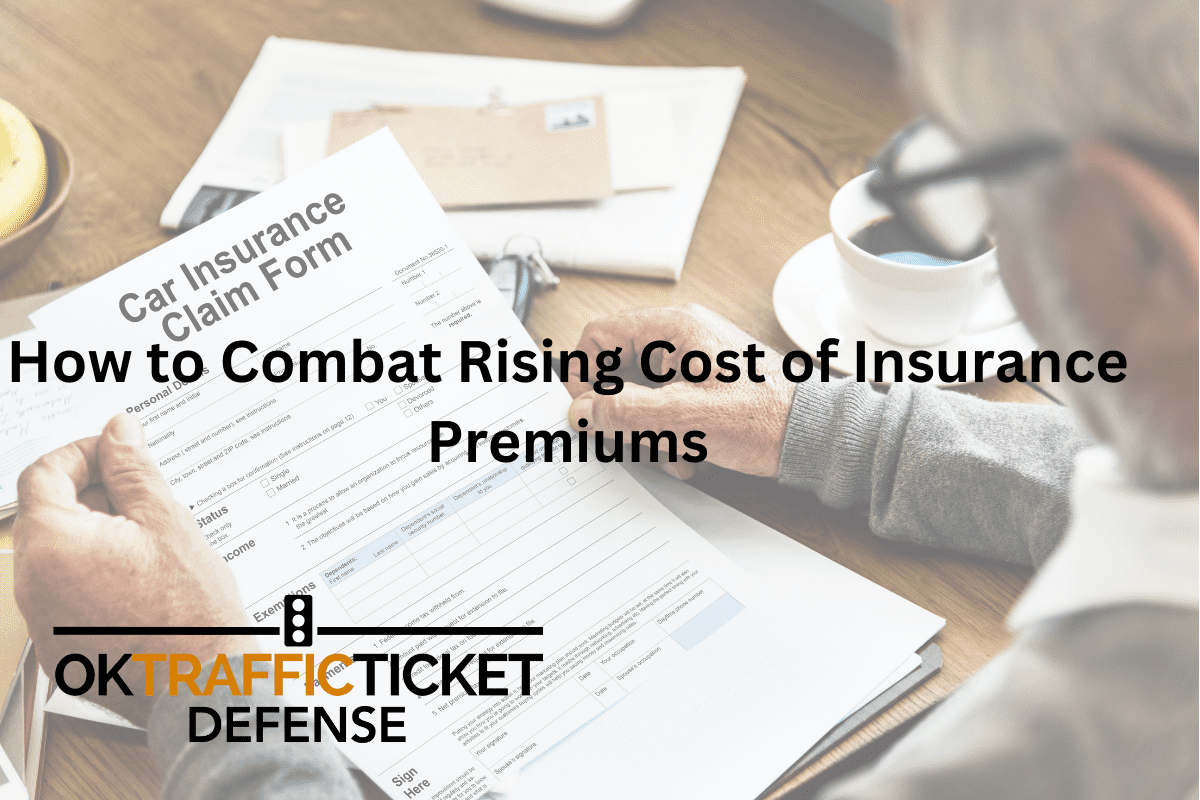 19 Dec

How to Combat the Rising Cost of Car Insurance Premiums | OK Traffic Ticket Defense
The Rising Cost of Car Insurance Premiums
Now more than ever, car insurance premiums are at an unprecedented high. In 2022 many factors are impacting the increase of insurance premiums and some of those influencers are preventable. Insurance companies base your premium from individualized components, however outside forces, particularly traffic tickets, have negative consequences on your insurance rates and can cause them to be even more costly. In this article we will talk about the aspects that influence insurance premiums, how traffic tickets can affect your premiums, and what you can do to be preventable and prepared when managing increasing insurance premiums. 
Why are Cost of Insurance Premiums Increasing?
Numerous factors are influencing insurance premiums in 2022. Nationally, car insurance rates are increasing on average 4.9% just this year. The biggest factor of insurance premiums and costs everywhere is inflation. Inflation has caused an average increase of spending to be 9.1% more than last year, meaning we are paying more for the same goods and services than this time last year. Some factors that can influence your premiums alike are: 
Car Accidents

Traffic Infractions

Vehicle type: certain types of cars cost more to insure

Driving habits: your driving record, how much you drive

Demographic Factors and coverages: where you live and park your car, your age and gender

The coverages, limits, and deductibles you choose: Type of coverages, your limits, and deductibles
 Again, insurance premium rates are highly personalized to your specific circumstance, however sometimes incidents happen like traffic accidents and speeding tickets that can increase your premiums significantly. 
How do Traffic Tickets Impact your Premiums?
Traffic tickets can impact your insurance premiums depending on the circumstance of the violation. Car insurance companies do not always view driver's license points when determining premiums, however they will see infractions on your record and become aware when renewing your insurances. Increasing rates will result in an additional charge from the insurance company, typically a speeding ticket will result in a 5 -10% increase of annual premium. The circumstance and severity of the traffic ticket will determine what charges are applicable from your insurance. When contesting a ticket, it can sometimes be a tiring process, depending on where you received the citation. There might also be additional court and lawyer fees, which can all add up to the financial burden of receiving a traffic ticket. If eligible, completing a defensive driving course after receiving a traffic citation could potentially lower the impact of the ticket on your car insurance premium. It is always beneficial to check your insurance company's policy on traffic infractions and rates. 
Conclusion
Insurance premiums are already on the rise with inflation and particular personal components that establish your limits and deductibles. Traffic tickets add on additional cost and fees that can be preventable if managed correctly and efficiently. If you have recently received a traffic citation and are concerned about points being added to your record that will affect your insurance premiums, upload your ticket, message us, or call us to discuss your situation at no charge.