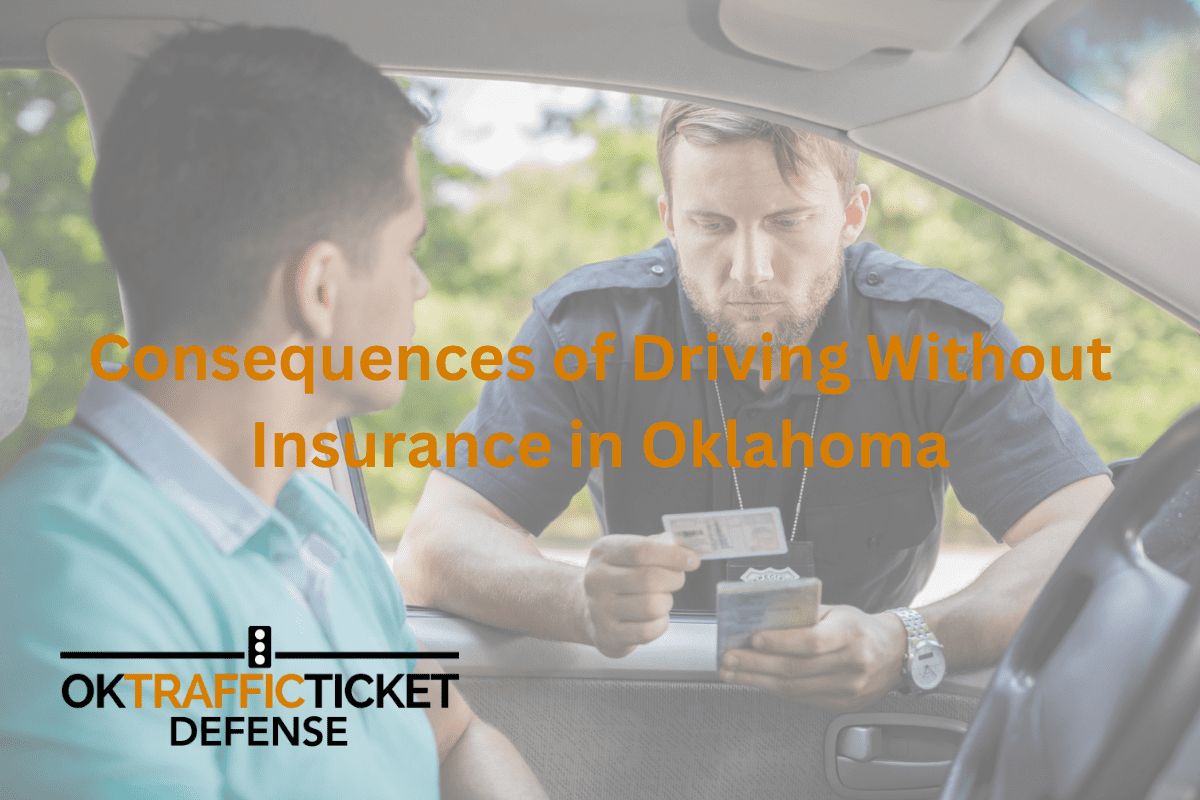 19 Dec

Consequences of Driving Without Insurance in Oklahoma- Your Options
Consequences of Driving Without Insurance in Oklahoma:
In Oklahoma, driving without insurance is a serious offense. It is common for police officers to ask for proof of insurance during traffic stops, this is to show your vehicle is insured under state laws. If you are unable to provide proof, you could be left with hefty penalties depending on the circumstances. Additionally, not being able to show proof of insurance versus not having insurance at all are two very different violations. In this article we will talk about why insurance is important and the penalties of driving without it.
Why is Car Insurance Important?
Acquiring insurance can be beneficial compared to the consequences of driving without it. Insurance is important because besides it being required by law, it allows security when driving your vehicle and gives you assurance of support with financial protection if ever an accident were to happen. Oklahoma requires that drivers have no less than $25,000 in bodily injury liability coverage, up to $50,000 per accident, and $25,000 in liability coverage for property damage, equaling Oklahoma's minimal liability coverage. In Oklahoma, drivers pay an average of $522 per year to maintain the minimum amount of coverage.
Punishment for Driving Without Owners Insurance in Oklahoma:
State Statute 47 O.S. § 7-606 (OSCN 2022) states that,
"1. An owner or operator who fails to comply with the Compulsory Insurance Law shall be guilty of a misdemeanor and upon conviction shall be subject to a fine of not more than Two Hundred Fifty Dollars ($250.00), or imprisonment for not more than thirty (30) days, or by both such fine and imprisonment and, in addition thereto, shall be subject to suspension of the driving privilege of the person in accordance with Section 7-605 of this title; provided, that if a requesting law enforcement officer verifies valid and current security and compliance with the Compulsory Insurance Law through the online verification system, there shall be no violation of the Compulsory Insurance Law and no citation shall be issued. Upon issuing a citation under this paragraph, the law enforcement officer issuing the citation may:"
Upon your first offense, if you receive a violation of "No proof of insurance" and you can prove that you have insurance, your citation will be dismissed upon proof to the court within forty-eight (48) hours of your violation.
If you have received a violation for driving without insurance completely, it is punishable up to (30) days imprisonment and/or fine, and you could potentially be subject to suspension of license and registration. Additionally, to the legal consequences, driving without insurance causes annual insurance premiums to rise about 5% in Oklahoma.
Your Options:
If you have received a citation in Oklahoma for not having proof of or insurance coverage, it might be beneficial to hire an attorney to help keep the violation off your record, reduce your fines, or prevent driving license suspension. Contact OK Traffic Ticket Defense today, upload your traffic ticket, message us, or call us to discuss your situation at no charge.